Fiberglass garage doors are strong, durable and can be formed and finished to look like genuine wood doors. For this reason, they are sometimes called faux wood garage doors.
How common are fiberglass garage doors?
They are not as common as steel garage doors. The major brands manufacturing fiberglass doors are Wayne Dalton, Clopay, CHI and the Overhead Door Company.
How much do fiberglass garage doors cost?
Fiberglass single garage doors cost $1,800 to $4,500 while two car fiberglass garage doors cost $3,300 to $6,500.
Full fiberglass garage door cost details are available below.
This post also includes top fiberglass garage door manufacturers and a comparison of doors made from this material with other options including aluminum, wood and steel garage doors.
What Types of Fiberglass Garage Doors are Available?
The most popular fiberglass garage doors include traditional Carriage House designs, contemporary styles and upscale "designer" doors too.
For example:
CHI Carriage Collection Carriage House fiberglass garage doors feature a steel frame with a fiberglass overlay. The result is the look for a traditional carriage house door that swings open left and right – even though it is an overhead door.
Overhead Door Impression doors feature steel bases with an exterior shell molded with faux wood grain and made in oak, cherry and mahogany colors.
Wayne Dalton Designer fiberglass garage doors are also fiberglass layered over steel to give the appearance of a genuine wood garage door. The Wayne Dalton 9800 fiberglass door features the look of a paneled wood door and rich graining that makes it difficult to distinguish from real wood.
How Are Fiberglass Garage Doors Constructed?
What are fiberglass garage doors made from?
Well, fiberglass, of course. But they all have a steel frame to give strength and rigidity to the doors.
Some are layered doors. The core can be rigid foam insulation, though non-insulated fiberglass garage doors are produced too. If insulated, the R-value can be as high as 16, though R-7 to R-10 is more common.
Then layers of steel are added inside and out. The final layer is a thin veneer of fiberglass. The fiberglass layer is usually molded from a frame made with genuine wood to give it authentic texturing.
How Much Does a Fiberglass Garage Door Cost?
Fiberglass single garage doors cost $1,800 to $4,500 while two car fiberglass garage doors cost $3,300 to $6,500.
The cost is $1,800 to $6,500. Size, whether it is insulated, windows or not, the type of hardware and other features determine final cost.
Fiberglass garage door pricing looks like this:
Low Price Range: $1,800 to $2,400 gets you a basic door with a lightweight steel frame and fiberglass panels. The door will have little or no insulation and probably won't have layered steel beneath the fiberglass. These are light and fairly cheap fiberglass garage doors.
Mid-Price Range: $2,400 to $3,800 for a fiberglass door will buy you a high-quality one-car garage door or a cheaper 2-car garage door. The higher quality single door will likely be insulated and might have a window. The design and hardware will be basic.
High Price Range: $3,800 to $6,500 is the cost for the best single car and 2 car fiberglass garage doors. These feature layers – a foam interior, a steel layer covered in a fiberglass layer or veneer.
The best designs look like paneled traditional wood garage doors or have a sleek, modern flare with large windows. Some are translucent to allow in maximum natural light or to allow you to light them from within to create a compelling nighttime ambiance.
Fiberglass Garage Door Features
You have two buying options when purchasing a fiberglass door: Pre-made doors or custom doors with the style and options you select.
Pre-made doors cost less and are produced in the most popular styles, features and colors. Many homeowners go this route because there are plenty of attractive choices plus the process goes more quickly – you don't have to wait for the door to be made.
Custom doors are produced after you select the options you prefer – Door series (Carriage House, Modern, Designer, etc.), panel style, windows or not, hardware, color, insulation type/R-value, etc.
Going the custom route is a good choice if the none of the pre-made styles fit your vision for your home.
Here are more details.
Door Designs
Each manufacturer offers a slightly different range of designs. Most make carriage house style doors, traditional sectional doors and raised panel doors like this gorgeous option from the Wayne Dalton.
Other designs include the look of vertical board & batten style, smooth-surface modern appearance, timeless full-width horizontal planks with large windows or panels with rounded top and bottom sections like this CHI garage door.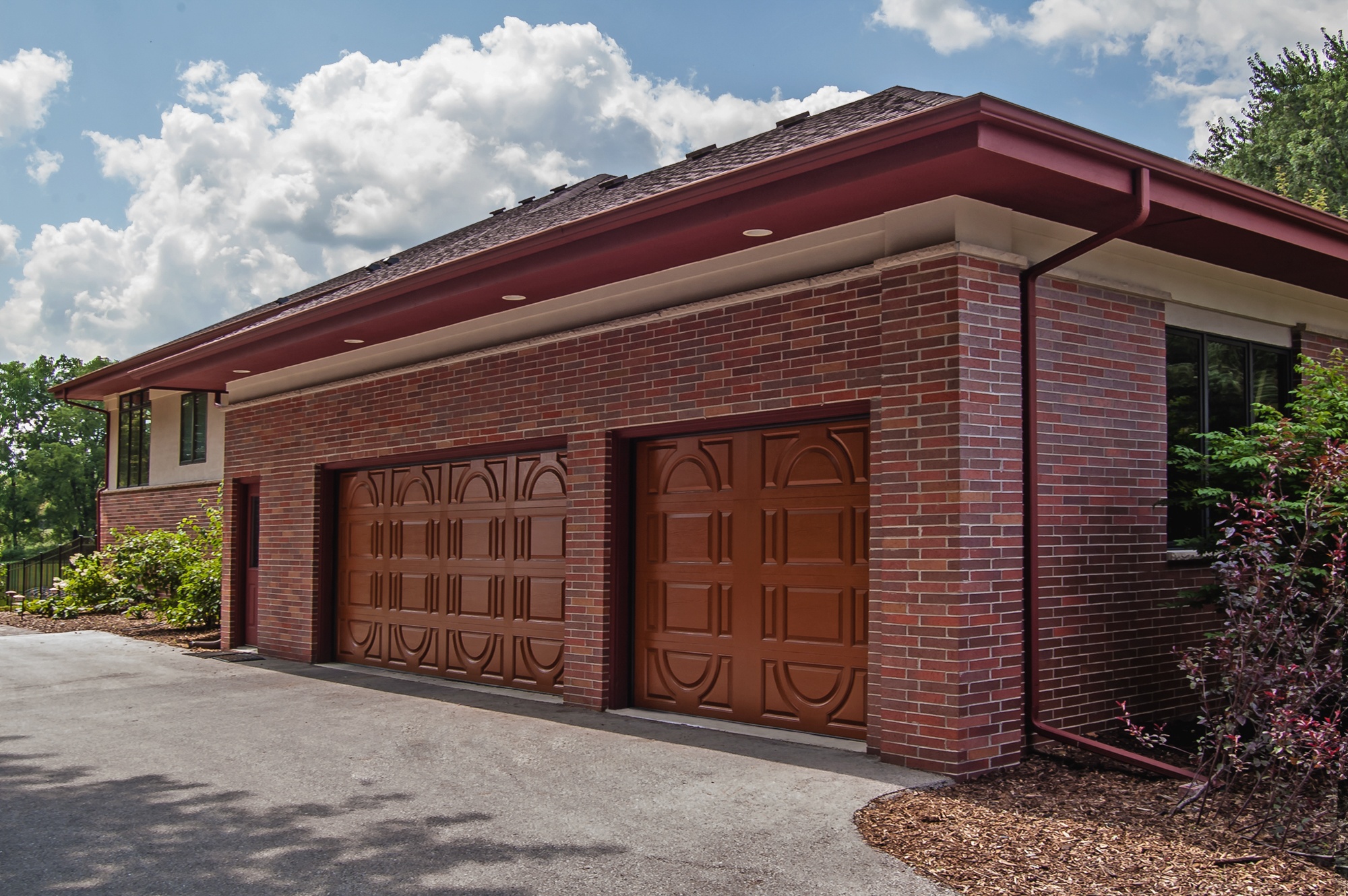 Windows
Windows provide natural light and visual interest, but not all homeowners want a view into their garage. Choosing a frosted window allows the light without the view. Tempered glass adds security to the window.
There are many window designs from simple slat windows in the upper middle of the door panel to larger windows with sunburst grills, contemporary windows off to one side and arched traditional styles.
Of course, on most garage door styles, you can opt for no window too.
Glass Options
Among the glass choices are tinted, obscured or frosted glass, low-e thermal glass for warm climates, tempered or laminated glass for security/storm resistance.
Some manufacturers also offer Plexiglas or polycarbonate windows. These are sometimes a more affordable option.
Color and Finishes
CHI Garage Door's choice of colors for faux wood fiberglass doors is similar to what other brands offer. Choose from the look of painted wood or stained wood.
Most finishes are a tough, scratch-resistant powder coating applied at the factory for maximum durability. UV-resistant finishes are used to prevent the door from fading, even after years of afternoons spent in direct sunlight.
Who Makes Fiberglass Garage Doors?
What are the best brands?
Wayne Dalton, CHI and Overhead Door make fiberglass garage doors – and they're all considered to be manufactured with high quality and appealing designs.
Here's what these top fiberglass garage door brands sell.
CHI Garage Doors
CHI garage door selection might be the best of all the brands. It begins with a simple raised panel door with affordable pricing.
The CHI Carriage House fiberglass doors are traditionally styled with a steel frame and fiberglass overlay for a real-wood look. These are 2-layer doors with insulation.
CHI's High-Definition fiberglass garage doors are premium doors with elegant styling choices like raised and arched panels of various heights and widths. These steel-frame doors feature multiple layers and an impressive R-value of 16.95. They're available in 7 paint colors and 3 stained wood tones.
Wayne Dalton
The only series from Wayne Dalton garage doors is the Designer 9800 Series faux wood fiberglass garage doors.
These are steel-core doors with polyurethane insulation and a fiberglass veneer available in 10 colors giving the impression of stained wood. The R-7.6 insulation value is average.
Overhead Door
The Overhead Door garage doors Impression Series fiberglass doors boast 3-layer construction including layers of foam insulation, steel and fiberglass. The R-value is just 7.6, but that's sufficient for garages that are not climate controlled. You have 8 door styles, 15 window choices and 12 color options in paint/stain appearance.
Does Clopay make fiberglass garage doors?
No. Clopay makes steel, aluminum, glass panel and wood garage doors.
Other leading brands that do not offer fiberglass doors are Raynor, Hormann and Amarr.
Overview of Fiberglass Garage Door Brands & Prices
Fiberglass Garage Door Prices by Manufacturer
Brand
Profile
Price Range
Style
CHI

Recessed Panel

$2,500 – $4,500

Traditional, Entry-level fiberglass door

CHI

Carriage House

$2,800 – $5,000

Fiberglass overlay, 3-layer construction

CHI

High-Definition

$3,500-$6,500

Multi-layer steel & fiberglass design
Overhead Door

Impression

$3,000 – $5,000

3-layer construction, wood tones

Wayne Dalton

9800 Series

$1,800 – $3,500

Fiberglass veneer over steel, insulated
Pros and Cons of Fiberglass Garage Doors
Fiberglass is a unique material with advantages and disadvantages.
Consider the Pros of Fiberglass
Wood Looks – Fiberglass mimics genuine wood better than steel or aluminum. It is nicely textured with molds made from real wood, so the graining looks quite authentic.
More Affordable than Wood – You get a realistic wood appearance at 40% to 65% of the cost of genuine wood.
Less Maintenance than Wood – While you can repaint fiberglass if desired, it isn't necessary for the first 20 years or so. It isn't susceptible to wood's potential issues like rot and insects.
Won't Corrode – Steel doors offer benefits, but if the coating is scratched or wears off, rust is inevitable. And once it starts, it can be difficult to stop.
Good Durability – Because of its strength compared to vinyl and the other "pros" mentioned, fiberglass lasts longer. Expect 20-35 years from your fiberglass garage door.
Consider the Cons of Fiberglass
Cost – While less expensive than wood, fiberglass doors usually cost more than steel, aluminum or vinyl. It makes sense to compare garage door costs of the various materials before buying.
Poor Insulation Value – Fiberglass by itself does not insulate much at all. But that's true of all materials except for wood. And insulated fiberglass doors are available from the manufacturers listed above.
Not Real Wood – If homes in your neighborhood boast genuine wood garage doors, then choosing fiberglass might impact your home's value. In most neighborhoods, however, fiberglass is an excellent choice.
Not as Recyclable – Steel and aluminum are easier to recycle than fiberglass.
Brittle – In extreme cold, fiberglass gets brittle, making it susceptible to damage from impact. But this is not a common problem.
FAQs
How Long Do Fiberglass Garage Doors Last?
Expect 20 to 35 years of life from a good-quality fiberglass door. Maintaining the door's frame and hardware are keys to longevity.
Is a Fiberglass Garage Door Better than Steel?
Yes, generally speaking. Fiberglass is easier to maintain, won't rust and a look and feel closer to genuine wood.
How Much is a Fiberglass Garage Door?
Cost starts under $2,000 for a simple single-car garage door and ranges to $6,500 for a premium 2-car fiberglass garage door. Cost factors are size, level of insulation, windows, color choice and hardware selection.
More Garage Door Prices for Popular Materials