A wind rated garage door protects your entire home from damage. Once the garage door fails, pressure can build inside the garage leading to the roof and walls being blown out, as shown in this image from the US DOE Office of Energy Efficiency and Renewable Energy.
So, the garage door is an essential line of defense against the destruction of your home in a high wind event including hurricanes, tornados and straight-line winds in excess of 100 MPH.
Terms: These fortified garage doors go by several names.
Hurricane rated, hurricane ready and hurricane proof.
Impact rated and impact resistant.
Wind rated and wind load rated.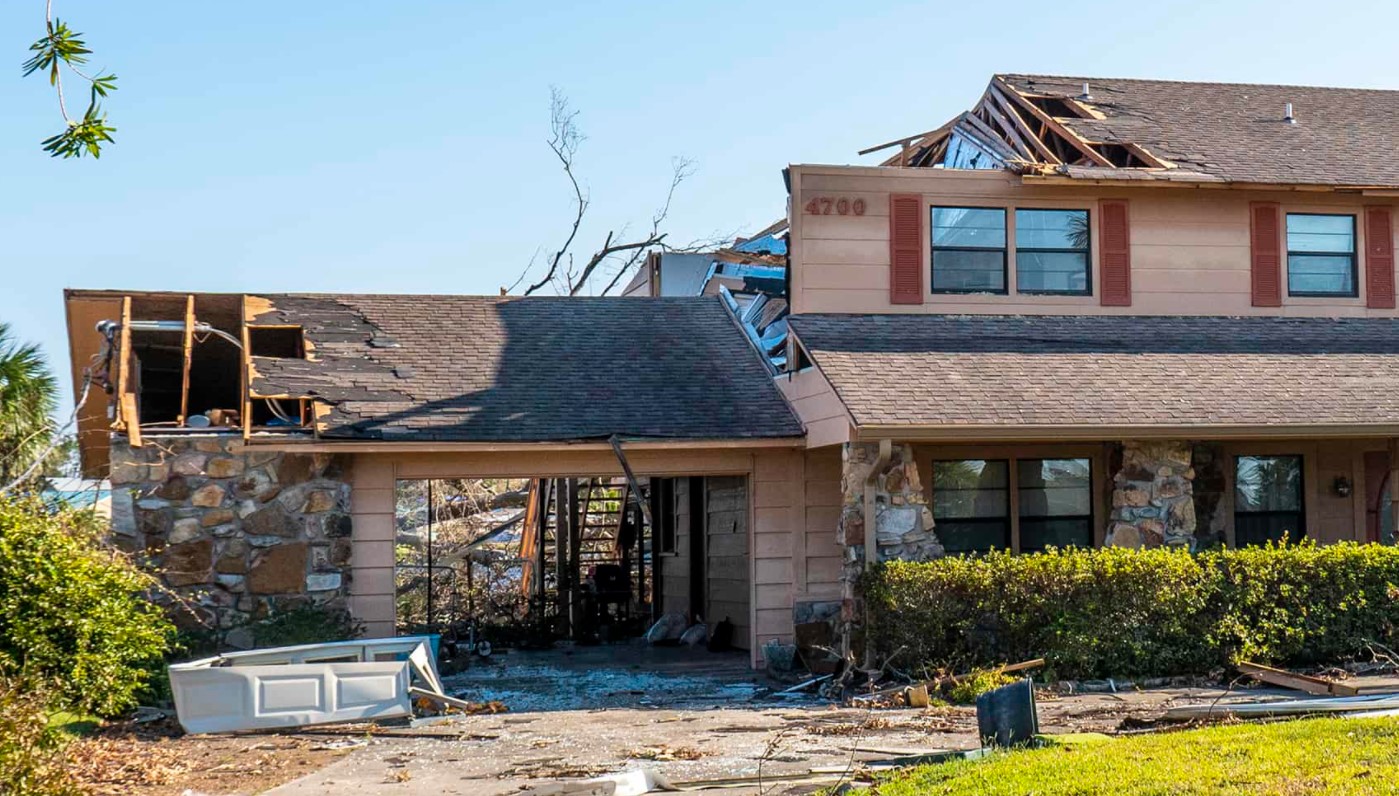 Many major garage door manufacturers make wind rated and hurricane ready doors. These include Raynor, Overhead Door, Clopay and Amarr.
The garage door wind load and impact rating requirements vary by state and even by county, and your garage door installer should know the specific regulations for your home. A top winds map of the US is available to show you maximum wind speeds in your area.
This Impact and Hurricane Proof Garage Door Guide will assist you in buying the right storm resistant garage door for your location. More information on brands and prices are included below.
Did you know? Some garage doors can be retrofitted with additional struts and bracing to significantly improve their resistance to wind and impact. Talk with local garage door contractors about the possibility before spending thousands of dollars on a new garage door!
And if you live where hurricane proof garage doors are now required, it makes sense to either reinforce your existing door if it doesn't meet the Code or buy a new one. For example, in Miami-Dade, the insurance premium on a home that does not have a hurricane rated garage door is 30% to 40% higher than one with a door that meets current wind ratings.
With insurance premiums ranging from $5,000 to $7,000 on homes worth $200,000, saving 40% on the premium means a new garage door will pay for itself in just a few years.
What Is a Hurricane Rated Garage Door?
It is a reinforced garage door designed to withstand hurricane force winds and the impact of wind-driven debris. Here is the interior of a Raynor hurricane rated garage door.
Know Your Code
It is important to know which set of regulations your garage door needs to comply with. These include:
IBC 2010, 2012, 2015, 2018 or 2021
*IBC stands for International Building Code. It is the standard where there are no specific codes such as the Florida Building Code or FBC.
Again, a certified garage door contractor should be able to provide guidance on the specific requirements for your home.
What Does Exposure Category Mean for Garage Doors?
An exposure category, B, C or D, considers terrain characteristics where your home is located. It is used in calculations of the wind pressure design of a garage door.
Category B: This is the lowest pressure rating. It is used in wooded areas or where changes in the terrain provide a natural wind block.
Category C: This rating indicates more open terrain, usually flat, where wind travels unobstructed.
Category D: This rating is used for homes within 600 feet of open water, which does not provide any protection to the garage door.
Your garage door will have to meet different requirements based on the category B, C or D rating. It is used to calculate the wind load pressure rating in PSF or pounds per square foot at different wind speeds.
For example, consider winds of 150 MPH, a typical wind speed in a hurricane. Here are the required design pressures (how much wind pressure the door can withstand) for double 16'x7' doors:
Category B: 22.7 PSF (single or two story)
Category C: 27.6 (single story) or 32.2 (two story)
Category D: 33.6 (single story) or 36.5 (two story)
Positive and Negative PSF
Wind can blow against the door – that is positive PSF pressure. And because hurricanes feature extremely low pressure, they can "suck" on a garage door too. That's negative PSF. Your garage door must be rated to withstand both types.
Florida Garage Door W Ratings
The ratings are a little simpler in Florida. Each garage door must have a Wind Rating or W Rating. The rating is shown on a sticker on the inside of the garage door. W ratings are W-1 to W-9 for all garage doors. However, in Florida, depending on how close to the Coast you live, your door will need a rating between W-4 and W-9. For Dade County, the rating must be at least W-6.
Who Makes Hurricane Proof Garage Doors?
Several of today's leading garage door manufacturers make doors for installation in hurricane zones (High Velocity Hurricane Zones or HVHZ). Most brands use extra reinforcement on their existing door lines plus impact-resistant glass rather than producing lines specifically for high-wind zones.
Clopay
Clopay makes more garage doors than any other brand. Clopay garage doors are manufactured in a wide selection of doors that are hurricane resistant with ratings from W4 to W8 and wind resistances up to 60 PSF. All doors are made in the USA.
Your material choice from Clopay are wood (Reserve Wood Limited Edition) and steel (e.g., Canyon Ridge). Its steel doors are available with or without composite overlay.
Overhead Door
The Overhead Door Company garage doors are offered in two lines of wind load or hurricane / pressure-resistant garage doors. Courtyard Collection doors are insulated steel garage doors with overlay. The Thermacore Collection doors are also insulated, painted steel doors.
Amarr
Amarr WindPro Hurricane Rated garage doors are available in most of their standard door lines. The WindPro system is garage door reinforcement to make the door compliant with the various local wind load and PSF requirements.
Choose from the top lines of Amarr garage doors in wood (e.g., Amarr by Design), steel (7 lines) and aluminum hurricane garage doors (2 lines).
This popular garage door brand makes hurricane impact garage doors in the widest range of materials. Choose a Wayne Dalton hurricane resistant garage door in wood, steel, fiberglass and vinyl. When shopping, look for the Wayne Dalton WindSafe logo.
Haas garage doors are made in an impressive lineup as well. Your choices are wood (e.g. American Tradition Series), insulated aluminum (5000 Series) and both non-insulated and insulated steel (2500 & 2000 Series).
This high-end brand makes a few hurricane rated garage doors in steel, but the highest wind speed rating is 150MPH for a Hormann garage door. That's not high enough for much of coastal Florida and other HVHZs.
Raynor
Raynor designed its Secure HD wind rated garage doors with the tough Miami-Dade wind load requirements in mind. The feature Raynor's Hurricane Ready ™ reinforcing system.
Choose from Raynor steel (insulated or non-insulated) or aluminum garage doors manufactured to meet wind zone requirements.
CHI
C.H.I. or CHI hurricane ready garage doors are available in plain steel and steel with composite overlay. Several design styles of each are offered, and you can choose your door with or without interior insulation. Here is the Carriage House 5700 door with overlay.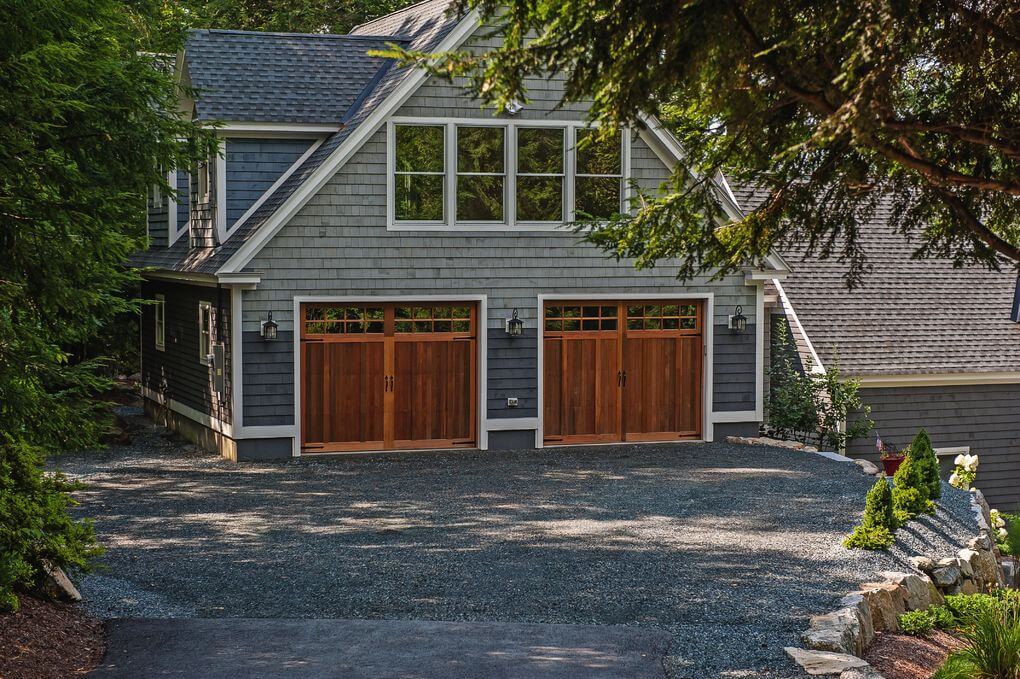 Hurricane Garage Door Prices

Brand

Door Series

Single Door

Double Door

Clopay

Wood Doors

$2,775 – $5,800
$4,625 – $9,685

Steel Doors

$1,500 – $3,495
$2,450 – $6,995
Overhead Door

Steel Doors

$1,395 – $3,550
$2,200 – $7,375
Amarr

Wood Doors

$2,895 – $5,975
$4,835 – $11,550

Steel Doors

$1,450 – $3,300
$2,375 – $7,650
Aluminum Doors
$1,625 – $3,595
$2,550 – $7,750
Wayne Dalton

Wood Doors

$2,800 – $5,850
$4,475 – $11,350

Steel Doors

$1,325 – $3,185
$2,175 – $6,850

Fiberglass Doors

$1,800 – $3,950
$2,685 – $7,800

Vinyl Doors

$1,200 – $2,950
$1,985 – $5,675
Haas

Wood Doors

$2,900 – $6,250
$4,800 – $10,500

Aluminum Doors

$1,795 – $4,200
$2,875 – $7,850

Steel Doors

$1,685 – $3,550
$2,600 – $7,550
Raynor

Steel Doors

$1,425 – $2,995
$2,395 – $6,835

Aluminum Doors

$1,500 – $3,650
$2,585 – $6,900
Hormann

Steel Doors

$1,700 – $3,400
$2,650 – $7,595
CHI

Steel Doors

$1,550 – $3,185
$2,500 – $6,950
Installed cost of a garage door ranges from $1,450 to $12,000 depending on the material, size and design of the door.
Door-only Prices: Wind load garage doors start at $1,100 for a one car steel garage door and can exceed $10,000 for a wood two car garage door. Here are hurricane garage door cost ranges for the most popular materials.
Wood: $2,400 to $10,500
Fiberglass: $1,400 to $6,800
Aluminum: $1,200 to $6,950
Steel: $1,100 to $6,750
Vinyl: $900 to $4,700
Labor Charges: When you hire a contractor to install the door, the cost of installation labor starts at around $250 for a single door. Average cost for a single garage door is $275 to $400. Double garage door installation labor cost ranges from $415 to $800 with an average cost of $625 to $700.
These prices are for:
One car garage doors 8'x7 to 9'x8'.
Two car garage doors 16'x7' to 18'x9'.
Cost Factors
In order of importance, the cost factors for hurricane rated garage doors are: Door material, door size, windows or no windows, amount of reinforcement based on required wind load and Exposure type, insulation, finish and hardware. As a result of the many options, hurricane rated impact garage doors vary greatly in cost.
Learn More In Our Garage Door Sections